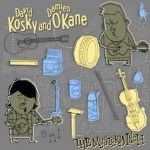 The Mystery Inch has been out now for some time but is still getting plenty of airplay and receiving great reviews.
"Banjos and guitars and other plinky plonky bangy things – Irish music with a twist!.'  It really is a fun instrumental album and well worth a listen. You can order from the Pure Records Shop.
Looking forward to a busy 2012!